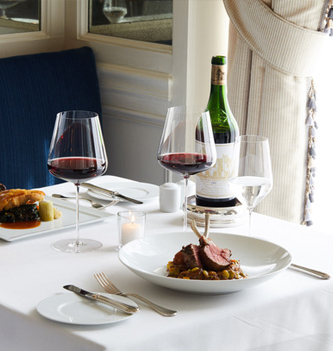 Bluepoint Winter Sabbatical & Wine Dinner with Becky Wasserman
January 28, 2018
Winter season at Blue Point is a time of renewal. Each year, our culinary and service teams begin a journey of discovery with the fruits of their work presented table side for your enjoyment.
This season, we have enlisted the talents of Master Baker Michael Färbinger and Chef Mario Lohninger, both Austrian natives, who will be working alongside our culinary team in an effort to bring to you an exceptional dining experience. Chef Mario Lohninger is a highly revered culinary master whose passion rivals the accolades he has received at Danube in Manhattan, which received three Michelin stars under his leadership, and currently his Frankfurt restaurant, Lohninger. Master Baker Michael Färbinger is an accomplished artisan whose craftsmanship is showcased at his bakery and wholesale operation, Oberbäck, where he focuses on traditional, expertly-executed breads and baked goods. Lohninger and Färbinger will be joined this year by Natalie Tapken who, along with Becky Wasserman, will host a grand wine dinner on January 20, 2018 at Bas Rouge.
Natalie and Becky will debut the wines from the Wasserman portfolio which have been carefully selected to pair with the creative offerings of Master Baker Farbinger and Chef Mario Lohninger. Please join us as we celebrate our Winter Season of renewal and discovery on January 20th, 2018. Reservations appreciated.